Mobile fraud is a serious issue that is impacting the entire mobile ecosystem. We believe education is the first step in getting rid of this issue for good. We built The Basics to Avoid Fraud guide to help our partners identify, and get closer to solving this problem faced by all mobile companies.
In this paper we want to share the basics of fraud to bring a light on this huge problem. If you understand fraud, you can fight for fair & clean mobile ecosystem with us.
What is Install Hijacking?
The type of fraud uses a mobile malware to hijack attribution for an install. Install hijacking is a broad category that includes the "click injection" as outline below.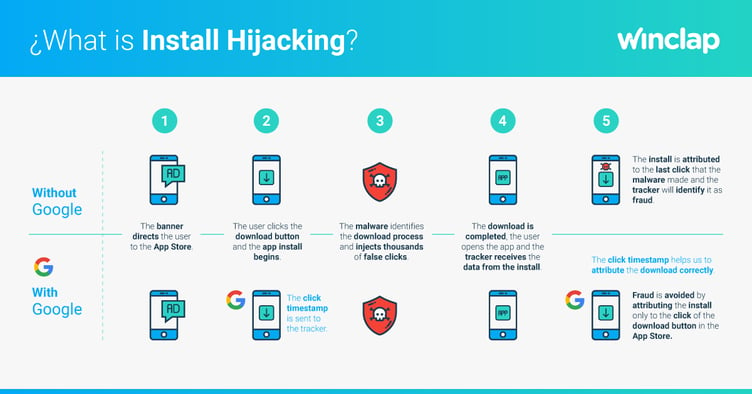 What is Click Spamming or Click Flooding?

"Fear is the path to the dark side. Fear leads to anger. Anger leads to hate. Hate leads to suffering."
The Fraud Industry is growing every day, and more fraudsters are creating new technologies to avoid the fraud prevention tools. If you want to learn how you can prevent your mobile marketing campaign for having fraudulent installs contact our Growth team!
To learn more about fraud download the basics to Avoid Fraud One Sheet in the following link:
Did you like it? Share the love! Always pass on what you have learned, Yoda said.
You can find this article interesting too: My Kingdom for a Postback! by Rafael Kieling, Growth Manager at Winclap